Fran Kelly on RN in the 7.45 am news shadow exposes Hicks gag perverting legal administration, as Visy goes for broke per 702
Mood:
special
Topic: big media
Picture: The super bright Fran Kelly matches wits with big thinker Mal Turnbull MHR this morning.

The serious political analysis from Michelle Grattan (AO, Adjunct Professor ) every morning on radio national abc radio (576 AM on your dial in Sydney) is usually just before the 7.45 am news on the higher rating 702 abc radio.
It usually clashes with the classy simper of Virginnia Trioli, the thinking man's crumpet prefacing her morning show. Suffice to say I turn to Michelle's probing reminiscent of a George Smiley guru, because she has the real JUICE on federal election prep.
But even Big Michelle gets it 'wrong' sometimes - Hicks gag is in the context of a criminal style legal process whereas confidentiality provision is far more appropriate to a CIVIL matter. So to quote a legal saying res ipsa loquitur - the matter speaks for itself the gag is a civil mechanism for political protection, not administration of criminal justice. The Howard/Bush regime are guilty as charged of perverting the administration of justice because it should be seen and heard to be done, not gagged.
So sorry Michelle your ad lib misfired there. Indeed Fran Kelly tackles Mal Turnbull MP on this very gag - Turnbull who in an earlier life was involved in the famous in the Spy Catcher free speech fight: SPY CATCHER by Peter Wright which we once found dumped outside the old Surry Hills library and devoured
Mal sidesteps the free speech issue and as Kelly points out he will be free before 1 year sentence here in Australia.
Robert Richter QC a defence and human rights advocate says its unique that USA Bush regime agent Susan Crawford of their Defence Dept cut the Hicks deal rather than chief prosecutor Mo Davis. In our view that's in effect perverting the administration of justice like the whole rotten operation.
Another broader concern for the long suffering ABC consumers is that Fran Kelly does her cutting edge media work in the shadow of the 7.45am news on the sister station because it seems it's not safe to be heard at a higher rating time on these critical issues.
Indeed as I write Richter confirms my view commercial contests often have confidentiality, but not the Hicks type of case: An illegal gag in the USA legal system. So are the Australian and USA government's saying his witness will actually damage their intellectual justification for the War on Terror. It sure looks like it.
It is true you can go to the the Radio National morning show website to download the story,
http://www.abc.net.au/rn/talks/brkfast/index/default.htm
as wonk Christian Kerr of ezine crikey.com.au is also known to do but its not quite the same and damn annoying switching the dial between two stations.
This morning I missed most of the story about (dodgy process for?) a Visy plantation fed pulp mill stage 2 at Tumut (a $450 million expansion, state significance wave through by Minister Sartor) set to expand pine plantations by 30,000 ha or so, with very serious landscape and water catchment implications, we having attended the first Commission of Inquiry for stage 1 in the late 90ies:
27/3/98...Visy pulpmill Commission of Inquiry for the NSW Planning Minister based on exotic plantations in the local region.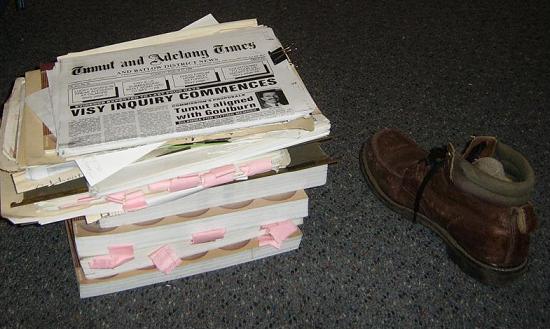 A quick few phone calls and I found that it was advertised locally for a month in February in the shadow of the state election prep, and got a very few submissions according to Moira Shields of ABC Wagga. I referred her to the Environmental Defenders Office and quickly gave a brief to principal solicitor Jeff Smith too - good to see him at work at 8.15 am on Monday.
This is what recently retired and highly respected Commissioner Kevin Cleland said in his prescient final report in 1998 on the stage 1 Commission of Inquiry process regarding stage 2 in the news today 9 years later:
"The pine plantation resource in the Tumut region will require supplementing to ensure timber is available to the mill over the next 60 years. This is not part of the development application for the mill. Nevertheless, an additional area of 30,000 hectares is required for the Stage 1 and a further 40,000 hectares for stage 2. These areas are substantial and compliance with the relevant Codes of Practice will be essential to ensure adverse environmental impacts do not occur. To accord with the National Forest Policy Statement these additional plantations need to be established on largely cleared land with only incidental clearing. Some parties [eg local property owners, green groups] are concerned for the social implications of changing land use from agriculture to forestry monoculture over such large area. I recommend preparation of a strategic plan." [bold added]
: Kevin Cleland, extact of executive summary of report to NSW Planning Minister June 1998.
Here's betting London to a brick, there is no "strategic plan" for massive regional landscape change in the political shadowlands of the Southern Slopes of Tumut, Cootamundra, Wagga area during the incompetent and corrupt Carr-Iemma government.
Here's betting the critics like local property owners are being bought off (according to advice) as the defacto method of good land use governance here on planet ALP aka NSW, and other civil society voices like this one are being studiously ignored.
Who indeed will even take the bet?
Posted by editor at 9:44 AM NZT
Updated: Monday, 2 April 2007 2:32 PM NZT