Pictures of civil society at Australian Labor conference
Mood:
bright
Topic: election Oz 2007
The senior copper said there were no problems at all. Even Michael Costa didn't worry about stirring up the anti nuke anti coal activists.
There were 4 pictures we saw but didn't get down at the Darling Harbour monument to ALP power complete with at least 8 concrete overpasses:
1. the balloons floating by a roof worker as all the hot air gathered below him,
2. the crumpled Bob Ellis,
3. Treasurer Costa slinking past the crowd from behind a concrete pylon.
The fourth image missed was the most interesting: A Coalition Party activist called Peter last sighted infiltrating the Peter King pre selection campaign in Double Bay, then Clover Moore 2004 campaign for Town Hall, now with digital camera at the ALP conference door. "Just a member of the public" he joshed, as I scoffed mildly and we chatted about how to identify an ASIO operative. We decided we
probably couldn't.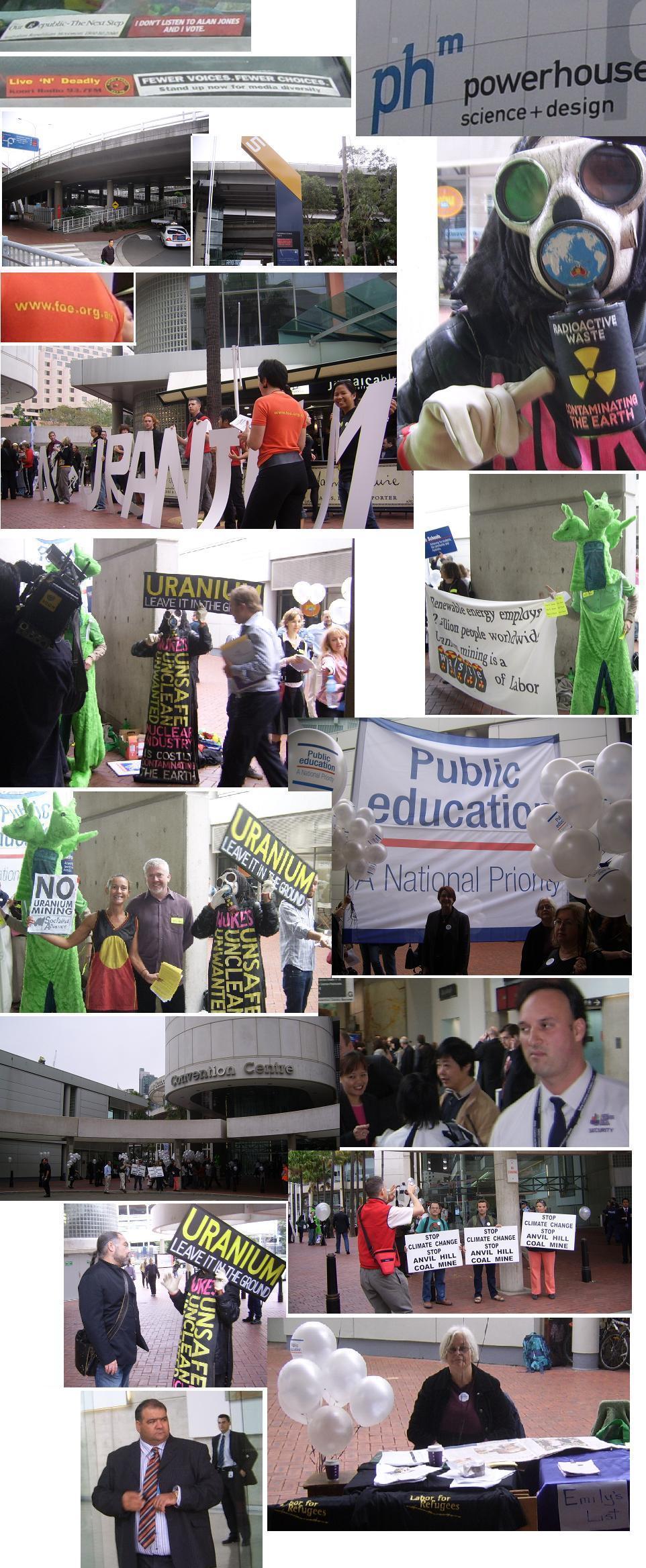 Pictures: Top left to right
1, 2: Cheeky car stickers spotted on the way in
2. Past the Powerhouse museum, design and science of power indeed
3. Laurie Brereton's concrete flyovers gift to Sydney
4. The amazing Benny Zable prophet of eco destruction
5. A resurgent Friends of the Earth activists with 'No Uranium'
6. banner 'renewable energy employs 2 million worldwide uranium mining a waste of labor' with a radioactively mutated 3 headed kangaroo costume
7. Marie OHallaran, public education campaigner (NSW Teachers Federation tbc)
8. Jacqueline X, Dave Sweeney of Austalian Conservation Foundation, Benny Zable patron of Ecology Action Sydney
9. Convention Centre frontage.
10. Security guard eyes off a cute conference goer (off screen)
11. Craig of Workers Radio chats with Benny Zable
12. Labor information stall for refugees and Emily's List
13. A very large gentleman, hard to say ALP or not.
Posted by editor at 2:08 PM NZT
Updated: Saturday, 28 April 2007 10:03 AM NZT