Sydney Harbour Bridge walk: Intersection of politics, real safety concerns and Laura Norder
Mood:
rushed
Topic: election nsw 2007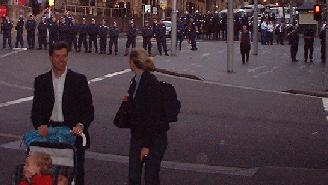 Picture: Police on foot and on horseback widely seen as overkill at anti Forbes protest in Sydney in 2005 over rich elites taking over our Opera House venue in 2005 to make plans about our future (more pictures of rally at the end of this post).
SAM's editor even as a sometime legal adviser has never heard of a joint police force chasing down protester charges from another state to here in Sydney:
Anti-Terror Squad Raid and Arrest Protestors in Dramatic Swoop
Picture: Anti G20 radical protesters in Melbourne in November 2006. What exactly is the problem with free speech, and who really is the danger to our society?
It may have happened but even up in Jabiluka (Northern Territory, hundreds arrested 1998) the authorities just wanted to evict the protesters back to the South or where ever. This bespeaks deeper analysis on behalf of the activist community. Read on.
Harbour Bridge walk of 200,000 planned for Sunday March 18th 2007.
All ungated and frankly irresponsible organisation given bag checks at such as the BDO and similar events, cricket etc for public safety reasons (use your imagination in the age of errorism, and I don't mean lefty anti capitalists breaking a few McDonalds windows or similar, more the London Tubes) but nothing for this crush of people on Sunday.
The whole event this Sunday is designed as an ALP party stunt to impress the voters prior to the vote on 24th March. A flavour on abc adam spencer show this morning on location at the Bridge with allegations it is an ALP stunt.
BUT if something goes wrong, and we hope and trust it doesn't, it turns the voters into punishers of the ALP. Already the ABC Glover show yesterday afternoon is alarmed 'it won't be safe' maybe, and Police Minister Watkins scolded Glover on air: "Richard ...Richard" it's all going to be fine says nice face on the jackboots Mr Watkins. Read on:
Iemma goes on the radio yesterday arvo too admonishing 4,000 unionists to NOT turn it into a protest event all wearing 'Your rights at work'. Get it? Stick to the 'party, vote ALP' vibe, not protest, especially if other causes like anti G20, anti Cheney leftists want equal protest rights in front of an audience.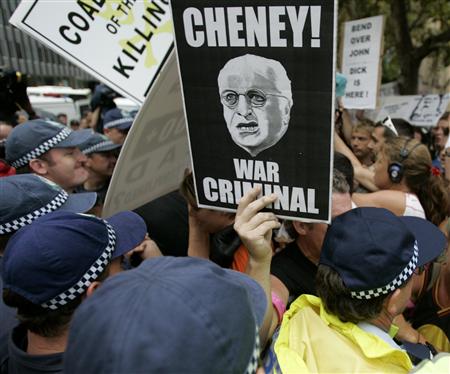 Picture: Police push into a crowd that was trying to hold a peaceful street march February 2007.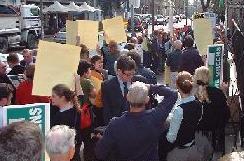 Picture: More democratic protesters in Macquarie street Sydney CBD June 7th 2006 against Iemma Govt repeal of planning controls on developers
So what is exactly going on these last few days to our democracy. Our conclusion: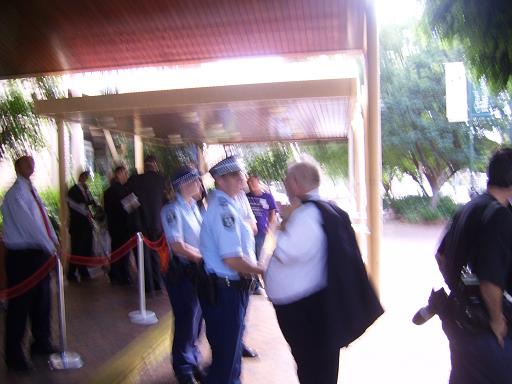 Picture: Friendly relations. ALP organiser at Morris Iemma's election launch in early March 07 in Hurstville shakes with senior policeman supervising public protesters out front of the Civic Theatre.

Police are shaking the social and democratic tree ... again....in preparation of the big ungated Sunday walk, and to avoid what Simon Santo abc state tv political reporter, and others (Sue Cato, spin doctor) are saying will be the next BIG transport test for the Iemma Govt, after 4 hour schmozzle on Wednesday night last: No excuse, says former rail boss
Any problems and its 'unhelpful PR backlash in the last week before the vote for the Iemma government', to paraphrase his machine man Mark Arbib on radio yesterday. That's the police agenda for their 12 year now ALP political masters - to keep it smooth, keep it orderly and quiet and bully anyone who wants to be loud agitators which actually is their democratic right ... at least in a democracy.
SAM's edtior being a middle class well educated type has written before at the time of the G20 footage from Melbourne of concerns about illegal vandalism in those protests. We much prefer the Gandhi style of activism:
Nevertheless we have very little doubt there is a political dimension to the timing and exagerated posturing of the 'anti terrorism police' indeed the Law and Order industry who don't want to solve 'the drugs problem' ever, or be done out of huge budgets and jobs.
We don't agree with aggressive protest tactics but are even more concerned about the anti democratic and oppressive tendencies of the police and their political masters. Premier Iemma leveraging the status of his office says the labour movement shouldn't wear T shirts in a block with the slogan "Your rights at work" like this rally November 30th 2006 part of a 300,000 strong group of rallies that day across Australia:

There is a word for opposing free speech - it's called fascism and was the guiding philosophy of another famous Italian who died at the end of a noose:
Benito Mussolini - Wikipedia, the free encyclopedia
People talk about the Aboriginal industry, but far far more is spent on the LauraNorder Industry metaphorically painting rocks and using protesters as punching bags: The anti WTO protesters in 2000 have just been paid some $750,000 by the Victoria police for illegal brutality back then:
Radical protesters receive secret payout By Natasha Robinson March 05, 2007 02:00am Article from:
A SECRETLY negotiated $700,000 compensation payment to S11 riot protesters who sued police for damages has been branded a "good outcome" by the Victorian Premier amid fury from the state's police union and the Opposition.
A group of 47 litigants blamed heavy-handed policing for injuries sustained at a riotous anti-globalisation protest outside the World Economic Forum at Melbourne's Crown casino in September 2000.
Premier Steve Bracks yesterday defended the $700,000 taxpayer-funded settlement - which comes after the public spent a reported $600,000 on the Government's legal bills - and said it would not set a precedent for future litigation by protesters. " at http://www.news.com.au/story/0,10117,21323913-1243,00.html
That's the legal truth of the police excessive force tactics, as reported by the right wing press, as much as any G20 anti corporate criminals protest. And the multinationals are criminals as the mass poverty and excessive affluence of the select few quite clearly shows. That's why a great range of Sydney folks including this writer attended the anti Forbes protests in 2005 as per this collage:

Posted by editor at 8:30 AM NZT
Updated: Friday, 16 March 2007 11:35 AM NZT